FULLY-MANAGED Dedicated Server Pakistan
Pakistan has an emerging IT industry which have huge potential. Keeping in mind the huge demand of dedicated resources, we have introduced very secure, reliable, affordable dedicated server hosting in Pakistan with great flexibility and scalability. Pakistan is world's fifth most populous country with a population of 212.2 million and 33rd largest country by area with world's 2nd largest Muslim population. At present about 57% of the population is based on youth. IT industry is developing swiftly in this country. A major chunk of foreign exchange is collected through IT industry, so there is great demand of professional web hosting services in Pakistan. Keeping in view the needs and requirements of software houses, small to multi national companies, banks and other organizations we have launched dedicated server hosting in Pakistan. After Covid-19 people have more interest in building their business online, as it is a good opportunity for them to work from home. There are not much people who are well versed with the terminologies and technologies of dedicated server, as most of the webmasters and companies prefer to host their websites on shared hosted. Which sometimes negatively effect their business, due to limited resources. So it is the time for all those companies who have great potential to rent a dedicated machine and provide maximum resources to their project to provide information and data to their end users with fast page loading speed and to handle heavy traffic without any problem.
GET STARTED RIGHT NOW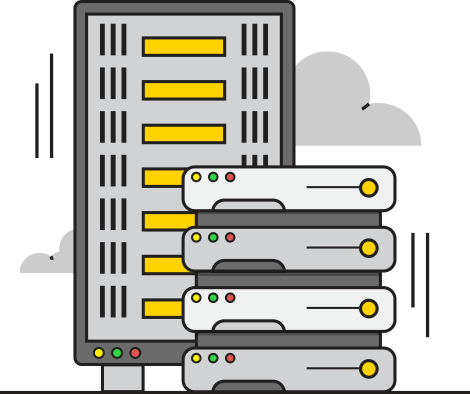 CHOOSE YOUR Dedicated Server Pakistan
Our most demanding Dedicated Servers in Pakistan are given below: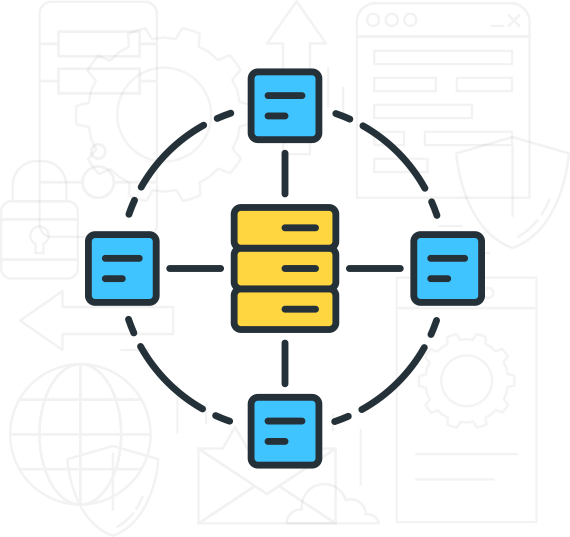 DEDICATED SERVER TECHNICAL SPECIFICATIONS
Virtual Machine Provides:
Host Server:
Dedicated Hosting Server Company Pakistan
We have large number of clients in Pakistan which are using our quality services to provide wonderful user experience to their target audience. If you have an eCommerce website or online store, or you sell products and services online than it is highly recommended to host your project on dedicated server to enhance the security and provide top notch browsing experience. With huge competition in local market, each search engine optimization factor requires attention to surpass your competitors in the SERPs.
Website speed matters a lot, and it is best to serve the local audience of a country with their required data through a local data center, as nearest as possible. It will minimize the latencies, and will enhance the user experience and will make your page loading speed super fast. In shared hosting you have limited resources and very less customization options, in fact you cannot install any additional softwares which need for high performance of your unique mission critical project. Fewer resources means, your website speed will be compromised, when your site will not load properly and efficiently you have great risk that your potential customer or buyer will bounce back to your competitors website. So to make your business successful online, dedicated resources are the need of the hour. We highly recommend all the small to large enterprises which can afford our best dedicated server hosting plans, to must try our services and feel the difference. It will naturally boost your business, by providing excellent user experience and serving the target audience with required information at super fast speed./p>
Plans and Pricing
We have created some of the best dedicated server hosting plans for our Pakistani clients. So if your business is striving for quality services and dedicated resources then it is the time to transfer your website from shared or virtual private server hosting to dedicated server. It does not matter if you are not familiar with the server configuration and maintenance functions, you can get managed dedicated server from ServerSlot at affordable price. Our engineers and tech team is available 24/7/365 to look after your dedicated machine and to make sure everything is functioning well.
There are lot of reasons why people choose our dedicated solutions, if your app or website is experiencing traffic spikes and your current hosting solution is not working for you, or if your current provider is charging huge costs then it is the time to move your project to our company which is providing quality services at best prices in the market. You can select one of the plan from below, or if you need completely customized configuration or special softwares or hardwares installed in your dedicated machine, then you can contact us and discuss your requirements with our support team. Our engineers will design a high performing dedicated server for you at competitive price. You can upgrade your plan and resources anytime you feel the need. You can also install any operating system you want in your machine, as we provide you with complete control and root access of machine. If you have any questions feel free to contact our proactive support team.
ADVANCED FEATURES
All Dedicated servers holds the advance features as compare to other available options such has shared web hosting or Virtual private server (VPS) with full root access.
Benefites of Dedicated Servers
Dedicated servers have many benefits such as you have full control and privacy with no tolerence policy of intrupption at any point. We will have no access on your server. You can make as much business as you want. These machines are highly brustable which control heavy instance of traffic as well. There are few basic benefits we have given below:
FACILITIES YOU CAN ORDER WITH DEDICATED SERVERS
With each server you have optional RAM, Hard, IPv4 and Software configurations. You can choose these hardware and software according to web application requirements.
Cheap Dedicated Server Hosting
Currently the economy of the country is struggling and due to huge inflation in the value of USD, it has become almost unbearable for small to medium size companies to afford a dedicated server in Pakistan. When USD exchange rate will keep fluctuating it makes the things unbalanced for small companies. As in case of dedicated server the fee is recurring every month so people are facing great difficulty and maintaining their budget. Keeping in view the current economy of the country and needs of the clients we have fixed our prices at the lowest possible rates.
So when you purchase a dedicated server from ServerSlot you do not need to worry about the fluctuation in the exchange rate you can renew your package with the same cost which you paid first time if you have not availed any additional services. We have large number of local as well international clients, we have our own data center at multiple locations. So as we sell servers in bulk so we can provide you industry's best services at low cost than other companies. In Pakistan due to high inflation rate, people tend to buy those services which are cheap or cheapest, they do not care about the quality of the services, and in the end their business suffer significantly.
But when you purchase any product or service from ServerSlot you can rest assured that we do not compromise on the quality of the services. Customer trust and our positive reputation is the foundation of our business. We do not compromise quality, security and performance of our dedicated machines. With more than a decade of experience we have learnt to provide cheap services without compromising the quality. So transfer your resource intensive or heavy traffic apps, project or website to dedicated environment and boost your business performance significantly.
Un-managed Dedicated Server Support
Initial setup of dedicated server hosting
Installation of Control Panel if License is purchased from our Compnay
Re-installation of OS (Operating System)
rDNS Setup
Network and Hardware related issues.
| | Self-managed | Managed | Fully managed |
| --- | --- | --- | --- |
| Monitoring | Proactive: Network & host | Proactive: Network & host reactive: container (stats via NodePing) | Proactive: Network, host, container (stats via NodePing) |
| Patching | | | |
| Root access | | 1-click enable | 1-click enable |
| Control panel | | | |
| APP installs & updates | | | |
| Backups (snapshot) | Disaster recovery only | Disaster recovery w/ On-demand (1 snapshot) | Disaster recovery w/ On-demand (1 snapshot) |
| Migrations | | Optional | |
| Support | | Optional | |
| Dedicated IPs | 1 | 3 | 3 |
| SMTP email relays | 5.000 | 5.000 | 5.000 |
FREQUENTLY ASKED QUESTIONS
Here are few of the most requested Questions by our customers. If you have any special request of any special question then please let us know via contacting us on support or via calling us.
Dedicated hosting is quite a premium thing as compare to normal hosting or shared web hosting. The dedicated hosting is based on dedicated resources. It helps you make your website more responsive, more active and more traffic controlling body.
VPS is virtual machine we create within a server while a dedicated hosting or dedicated server is the full machine with dedicated resources without having any sharing with any person. Which means dedicated servers have more resources cores, ram, hard etc than of a virtual private server (VPS).