VPS Server Hosting Chile
Fast SSD VPS Server Hosting in Chile from local completely secured data centers at cheap price with full reliability and scalability. Our low cost Virtual private servers are designed to give 99.99% uptime so your website and applications will be available around the clock with super fast speed and good user experience. We provide both Windows and Linux based VPS Servers, you can choose which operating system you need while ordering and our engineers will install the cPanel or Plesk as per your request. VPS Hosting Chile is fully optimized to give high performance with complete control on the server. With each server you get the root access, so you can install any softwares you need to enhance the functionality of your application. We provide completely redundant VPS Server and use the advanced technology such as KVM to physically isolate virtual machines in dedicated server. Each virtual machine can install its own operating system, and is completely isolated in terms of Memory and disk space and cores. You can customize the server according to your needs with root access, and can make configuration to make it fully compatible with your application. With all our web hosting services you get premium support which is available 24/7/365. We only use branded hardware, licensed softwares in our servers and provide you VPS server from fully secured tier III data center. Our experts have created several best VPS plans to serve the webmasters and business owners with quality web hosting at cheap prices. All the mentioned resources in the packages are used by the independent virtual machine, no other user share it with you.

Dedicated IP

Full Root Access

SSD Disk Drives

100 MB/S Network
Chile Virtual Private Servers
If you are fed up of limited resources which are offered in shared hosting and facing problems each day and want to shift your website or application to any reliable web hosting company, then consider Serverslot. We are serving the web hosting industry since more than 12 years, and we are among pioneers in providing VPS hosting services in Chile. With years of experience and efforts we have learnt to provide best ROI to our valuable clients. Who says that it is not possible to deliver high quality services at low cost. It is not a myth anymore, our engineers have made hand tailored VPS Server Hosting plans in Chile for local and international clients. VPS is the need of the hour, it protects you from traditional web hosting issues and your application is hosted on a relatively more secured server, with dedicated resources. Due to limited number of users on each dedicated server which is virtually divided into several parts, the load is still bearable and does not effect the performance of servers. It is a great way to boost your website. Even the search engine giant recommends fast speed of website. Which is only possible if your website or application has enough resources to load instantly whenever someone visit it. If your application does not load fast than you can lose any potential customer. So to avoid any loses in business, take all the steps to make your website super fast. All our VPS Servers have SSD storage which is the advanced technology and can efficiently deliver the required data and can increase your application speed many folds.
Memory
Burst RAM
CPU Power
Storage
Geekbench Score
Bandwidth
Price
1GB
2GB
2.4GHz

1 core

20GB
1000GB

$3.95/mo

On sale -

Save 50%

ORDER
2GB
4GB
4.8GHz

2 cores

40GB
2000GB

$8.95/mo

On sale -

Save 50%

ORDER
3GB
6GB
7.2GHz

3 cores

60GB
3000GB

$12.95/mo

On sale -

Save 50%

ORDER
4GB
8GB
9.6GHz

4 cores

80GB
4000GB

$15.95/mo

On sale -

Save 50%

ORDER
6GB
12GB
14.4GHz

6 cores

120GB
6000GB

$23.95/mo

On sale -

Save 50%

ORDER
8GB
16GB
19.2GHz

8 cores

160GB
8000GB

$29.95/mo

On sale -

Save 50%

ORDER




SIMILAR LOCATIONS
We have accross the globe data centers which makes us one of the most effective and demanding data centre, You name the country where you want your server and we will give you the best specs and price accordingly.

Dedicated IP

Dedicated IP

Full Root Access

SSD Disk Drives

100 MB/S Network
Cheap Chile VPS Hostingr
Chile VPS Server is a hybrid type of web hosting with features and characteristics between shared hosting and dedicated server. If you have a fast growing website, critical software or application which need any specific server environment to function properly. Or if you want to create your own web hosting company. Then selecting VPS hosting Chile is the best solution for you. We have large number of freelancers and web designing companies who have started providing quality web hosting services through our managed VPS hosting plans. This way they have established their own web hosting company and have increased their revenue. VPS is best for resource intense websites and applications, in it you get dedicated resources at the price of shared hosting. It is not difficult to manage a server even if you have no prior knowledge. You can learn things quickly through online tutorials, articles and knowledge base etc. Still if you think it is difficult to manage server, then you can take our premium managed ssd VPS server hosting Chile, in which our engineers manage all the server related issues and will solve the problems related to customization, configuration and will install any softwares required to enhance the server functionality. cPanel or WHM are best softwares to manage clients online billing system, Serverslot is partnered with these companies.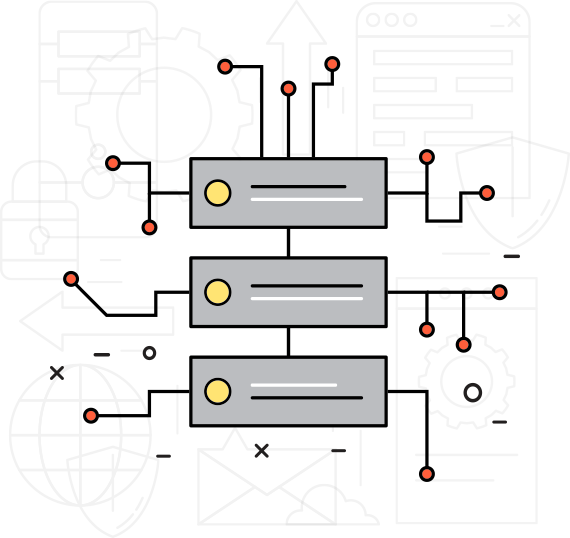 Best Services Around the Globe
Following are the few of our key services which we provide to entertain our valued customers with each VPS and Dedicated Server Hosting. In this modern era, the whole world has turned into global village, after this transformation it is easy to serve the people online with product and services across the world. So if you have a company or application which is designed to target the internet audience of a specific region or country, then it is highly recommended to host your application in a data center as near as possible to your target audience to deliver the content with lightening speed. Low latency is metrics of search engine optimization and is important for online success of any business. Low latency is only possible if your data is being served from a data center which is physically located near the user who is browsing your website or application. VPS servers are equally good to improve your user experience and enhance the performance of applications. If you have any confusions or questions related to Chile VPS, then feel free to contact us through our customer support. We have a very friendly and very cooperative support team, which is always ready to answer the queries and assist the clients in the best possible manners. Virtual servers are best for high traffic websites, eCommerce stores, Web hosting business and medium to large level companies. It also works best for critical softwares which need any special server environment through new softwares installation, custom configuration. Whenever you need more resources you can request it, and efficiently the resources will be provided.

Automatic Software Updates
Our State of the Art system makes auto updates ready on just click away which reduce the human effort and make it easier to control your services more easily.

Secure Shell Access
With each Virtual Private Server we provide the Secure Shell Access which make our customer more convienent to control, install and run different applications which a normal hosting can not.

Ruby Version Manager (RVM)
With Cpanel or Plesk panel we have facility to provide you with latest ver RVM. This is one of the most important element in new era web application controlling and running smoothly.

24/7 Support
Our Support system is out of the box as it provide you quick response with best solutions with every problem you get. You can reach us via email, ticket system or mobile numbers anytime 24/7.

Unlimited Email Accounts
We understand how important is email accounts for you and how important is your emails deliveries to clients. Most of the organizations based on their email system. We provide the best most effective email system.

Crontab Access
With each Virtual Machine you will get full control over server. This facility will allow you to run as much Cron jobs on your account as much you want with out any intruption or inconvience.

Knowledge Base
Our knowledge base is the best solutions to sort out your issues if you buy un-managged vps programe. By using our knowledge base you will able to sort out any issue regarding installation etc.

Managed Servers
Our Premium Managed VPS Services are the best and most demanding product in the industry. There are thousands of clients who are enjoying this. In this service you run your application and we will deal with all technicalities regarding your server.
WHAT OUR CLIENTS SAY ABOUT US
Purus gravida quis blandit turpis cursus in hac. Sollicitudin aliquam ultrices sagittis orci a scelerisque. Quisque egestas diam in arcu cursus euismod.
FREQUENTLY ASKED QUESTIONS
We have arranged few of frequently asked questions from our customers. If you have any specific question then you can reach us via contact form, generating ticket or via email at support or sales.
Being in the middle of Asia and Europe, there is no doubts that this part of earth has great importance to be live for everyone if one really wants to spread his/her business worldwide in lesser expenses. As we, all know Europe is a great, wealthy and full of potential market in the universe so most of reputed brands and individuals always consider stepping in. So to make this dream into fact, in today's era it is important to go live with upstream and most advanced elements. As we know, as per various search engines, fast loading and user-friendly experience it is important to have hosting infrastructure from that particular location. We know it is very hard to cover all origins of Europe so better to select a place, which can handle about all kind of requests. In this scenario, Turkey has great importance, which allow company's to boost their latency and loading speed in Europe as well as in Asia. Next fact is to acquire low charged solution but it should be dedicated. In such conditions, we always recommend you to go for a Turkey VPS Server which will give you dedicated root access with all Linux based operating systems and Administrator access with all Windows based flavors.
Yes, you can order a resources upgradation at any time of your subscription, making order is an any time execution process and you will be charged automatically as per what you selected.
If you are latency conscious and want to boost your traffic and to attract mature search engines towards your website portal then it is necessary to order a specific server from a particular location.
As Services are being offered through third party data center and we do not have any direct control so after purchase there is no refund for any new or renewed service. It is better to discuss things in details before placing your order.
We have hard internal firewall which prohibits most of the attack so you should feel yourself safe, currently we are not offering DDOS protection for this location bit is under consideration.
Your best VPS hosting option is here:
$2.95/month

*