VPS Server Hosting Pakistan
If you have a growing business or need more security, speed and specific server environment for optimal performance of your website, applications or softwares then it is the time that you should think about moving to Virtual private server hosting. VPS or VDS provides you dedicated resources, which no one shares with you, and you alone utilize all the resources and is cheap, economical, suitable for high performance of apps and websites. With each vps you get SSD storage, 99.99 uptime, complete control, root access of server, customized configuration and more control on the hardware of server. We only use premium branded modern hardwares, updates softwares and advanced virtualization methods to deploy VPS servers so that each user can utilized maximum dedicated resources independently. VPS Hosting is perfect to use if have a fast growing business or company website, or have sensitive data which you want to protect, or have created an application which need special environment for proper functioning. In shared hosting, you do not get dedicated resources and any other user can also share them with you, which results in high loading speed and poor user experience. The search engine giant google also recommends that your website speed shall be super fast, and it should load as quickly as possible. Fast loading speed of website is also an important metrics of search engine optimization now a days and its recommended that if you can afford then place your website on dedicated resources.

Dedicated IP

Full Root Access

SSD Disk Drives

100 MB/S Network
Virtual Private Servers Pakistan
As we all know cloud hosting and dedicated server is much more expensive and not everyone can afford it, then in this case Virtual private server is the best possible solution available to meet your web hosting needs and to make your business successful online. We are providing efficient high quality 24/7/365 support to answer all your queries and to assist you regarding matters of VPS hosting. Feel free to contact us if you need any information regarding VPS server Hosting. If you are fed up of resources restrictions, and need high CPU consumption, or you have created an online ecommerce website or store which have high number of images and receiving heavy traffic, then it is the perfect time for you to switch from shared hosting to VPS Hosting Pakistan. For some special softwares, applications and apps you often need remote desktop or VPN to browse things remotely for that purpose too, VPS Hosting serves the job. You can use our cheap VPS Server Hosting in Pakistan with local IP address and host your applications in Pakistan based data center to give super fast speed to your users and to have low latency rate. In Pakistan not much people know about this technology, as it is the advanced technology in which a dedicated server is virtualized with advanced Virtualization KVM technique to ensure provision of allocated resources to each user. With each virtualization machine you get guaranteed dedicated resources of RAM, SSD storage, security, complete control, reliability and scalability. We are providing Germany and USA based pure SSD virtual machines with advanced virtualization technology to make your business successful online.
Memory
Burst RAM
CPU Power
Storage
Geekbench Score
Bandwidth
Price
1GB
2GB
2.4GHz

1 core

20GB
1000GB

$3.95/mo

On sale -

Save 50%

ORDER
2GB
4GB
4.8GHz

2 cores

40GB
2000GB

$8.95/mo

On sale -

Save 50%

ORDER
3GB
6GB
7.2GHz

3 cores

60GB
3000GB

$12.95/mo

On sale -

Save 50%

ORDER
4GB
8GB
9.6GHz

4 cores

80GB
4000GB

$15.95/mo

On sale -

Save 50%

ORDER
6GB
12GB
14.4GHz

6 cores

120GB
6000GB

$23.95/mo

On sale -

Save 50%

ORDER
8GB
16GB
19.2GHz

8 cores

160GB
8000GB

$29.95/mo

On sale -

Save 50%

ORDER




SIMILAR LOCATIONS
We have accross the globe data centers which makes us one of the most effective and demanding data centre, You name the country where you want your server and we will give you the best specs and price accordingly.

Dedicated IP

Dedicated IP

Full Root Access

SSD Disk Drives

100 MB/S Network
Low Priced Packages
Serverslot is the name of the brand which is famous for providing quality services and maximum resources at lowest prices in the market. It is just a myth that you cannot get best quality at cheap price. We are serving the domain hosting clients across the world since more than 12 years. With lot of experience and practices we have learnt to deliver the premium quality web hosting with excellent customer support at cheapest price in the market. We have created several Dedicated virtual private server hosting plans for you, so you can choose any plan which fits best with your needs. We are offering more resources of SSD storage hard disk, cores, RAM, bandhwidth and ISP Port along with root access and complete protection, security, reliability and scalability. Which makes serverslot the best VPS server provider in Pakistan.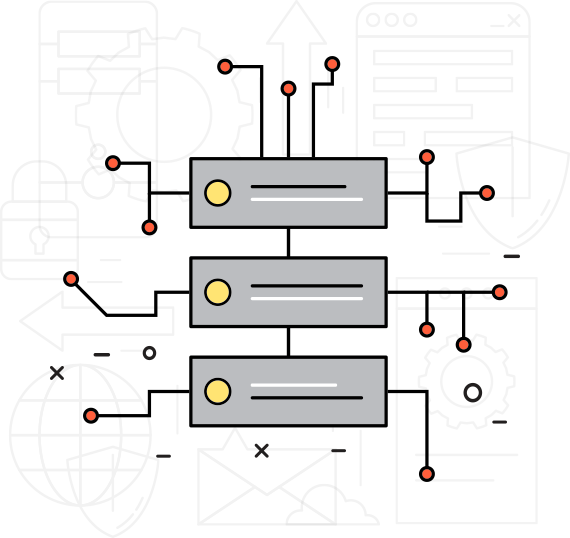 Best Services Around the Globe
Following are the few of our key services which we provide to entertain our valued customers with each VPS and Dedicated Server Hosting. With each SSD storage VPS we provide full root access.

Automatic Software Updates
Our State of the Art system makes auto updates ready on just click away which reduce the human effort and make it easier to control your services more easily.

Secure Shell Access
With each Virtual Private Server we provide the Secure Shell Access which make our customer more convienent to control, install and run different applications which a normal hosting can not.

Ruby Version Manager (RVM)
With Cpanel or Plesk panel we have facility to provide you with latest ver RVM. This is one of the most important element in new era web application controlling and running smoothly.

24/7 Support
Our Support system is out of the box as it provide you quick response with best solutions with every problem you get. You can reach us via email, ticket system or mobile numbers anytime 24/7.

Unlimited Email Accounts
We understand how important is email accounts for you and how important is your emails deliveries to clients. Most of the organizations based on their email system. We provide the best most effective email system.

Crontab Access
With each Virtual Machine you will get full control over server. This facility will allow you to run as much Cron jobs on your account as much you want with out any intruption or inconvience.

Knowledge Base
Our knowledge base is the best solutions to sort out your issues if you buy un-managged vps programe. By using our knowledge base you will able to sort out any issue regarding installation etc.

Managed Servers
Our Premium Managed VPS Services are the best and most demanding product in the industry. There are thousands of clients who are enjoying this. In this service you run your application and we will deal with all technicalities regarding your server.
WHAT OUR CLIENTS SAY ABOUT US
Purus gravida quis blandit turpis cursus in hac. Sollicitudin aliquam ultrices sagittis orci a scelerisque. Quisque egestas diam in arcu cursus euismod.
FREQUENTLY ASKED QUESTIONS
We have arranged few of frequently asked questions from our customers. If you have any specific question then you can reach us via contact form, generating ticket or via email at support or sales.
We highly recommend you to consider all the above plans thoroughly and it is advisable to consult with our expert before placing and order, so our support team will assist you in providing VPS server which will fulfill all your required needs. The process to complete the order is very simple just select a plan and proceed with placing the order. While proceeding before placement of order you can select your desired OS (Operating system), location of server, number of dedicated IPs and convenient payment method.
If you are purchasing VPS server from Pakistan, Lahore, Karachi, Islamabad or any other city of Pakistan. Then you can make payment through your bank account, Paypal or Mobile mone
Yes definitely they are secure as far as we are concerned with them. We provide primarily required security and precautions related to networking and physical existence of server, but it provides the half job done, the rest of the security is associated with the operating systems, softwares and interface related security setup which is your duty to control make sure everything is well protected.
All plans come with free semi-management services that means all initial important installations and configurations. Only hard reboots and re-installations are included in it. On the other hand it is your responsibility to keep your virtual private server secure by introducing firewalls, installing malware detection softwares and upgrading all the out dated versions. We can secure your virtual private machine by patching and do all the customization and configuration on your behalf in our managed VPS hosting packages. Our engineers and technical staff have tons of experience and years of practice you can get premium server management services from our company at any time by placing order.
It usually does not take more than few hours, as we believe in quick delivery of services. But to be on the safe side, it may take maximum 24 hours for complete installation and activation of operating systems, hardwares integration, software configuration. We will provide you credentials with welcome message as soon as your server is ready, it usually does not take more than few hours.
When you select a plan and proceed with the order, then you can select it if you want cPanel/WHM to be installed and activated in your VPS. If you will place your order with cPanel then you will get your order ready with installed Control panel when we deliver.
We have created large knowledge base, tutorials, blogs, community forum and articles which can help you in migrating your website from other provider to our company. If you are moving your website from VPS or dedicated server to our Virtual private server, then it is not much complicated and you can shift things quite easily. But if you are migrating your website from shared hosting to VPS then it requires a lot of work and we will guide you through tutorials and articles that how you can do it. But if you want to give us responsibility to transfer all the files and data, and make server configuration, then you can subscribe the server management plan to get our quality services. Our engineers will ensure quick migration of important files, data and website.
Your best VPS hosting option is here:
$2.95/month

*