FULLY-MANAGED Dedicated Server Egypt
Dedicated Server serves the best if you are concerned about full control, root access, maximum security and optimal performance. You have customizable hardware specifications so you choose the resources and configuration of the machine on which you want to host your data to fulfill your hosting needs. While placing order you can choose which operating system (Linux or Windows) you want to be installed. We provide complete root/administrative control to the hardware and software of machine in the form of remote desktop. You can access your physical server located in the most secured datacenter of Egypt from any part of the world at any time of the day. You are in just a few steps away from deploying your own dedicated server, built with modern hardware and advanced technology, placed in rack in CAIRO, Egypt datacenter facility. Host your company on dedicated machine if you want more adaptability and flexibility to your business site.
GET STARTED RIGHT NOW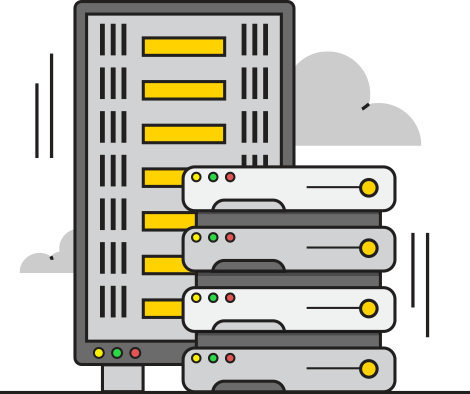 CHOOSE YOUR Dedicated Server Egypt
If you are tired of slow website loading, downtime, or resources restrictions issues and want exclusive hosting configuration which give you powerful resources and maximum uptime, then dedicated hosting is prefect solution for your company. It is exactly opposite of shared hosting in which the resources and hardwares of the system are shared by large number of clients or websites. When you opt for dedicated web server it means you get on lease a physical server fixed in rack located in data center facility. Dedicated machines are of great value and are perfect ROI (return of investment) if you have a fast growing website or your business need more resources. When you have complete control on your server you can optimize the environment of your dedicated machine and make it more compatible with your website or application to enhance the performance of your website. This way you can make your data more secured, can deliver information to your clients at lighting speed. Good user experience means people are satisfied with your business and will also keep coming back to make your more successful.Our most demanding Dedicated Servers in Argentina are given below:
Processor
Memory
Space
Traffic
Price
Intel Xeon E5530 2.40 GHz
16GB ECC DDR3
2 x 1TB SATA HDD 7200 RPM
10 TB

$229/mo

Sale -

Save 15%

ORDER
2x Intel Xeon E5-2620V2 2.0 GHz
32 GB ECC DDR3
2 x 480 GB SSD
10 TB

$359/mo

Sale -

Save 10%

ORDER
2 x Intel Xeon E5-2650V2 2.5 GHz
64 GB ECC DDR3
2 x 480 GB SSD
10 TB

$499/mo

ORDER
Each server contains 5 IPs by default - 100 Mbps Shared Port Connectivity - IPv6 /64 Addresses Included - DDoS Standard Mitigation.
There will be a one time setup fee as USD 65.
Storage Capacity can be upgraded, ask support before or after placing your order.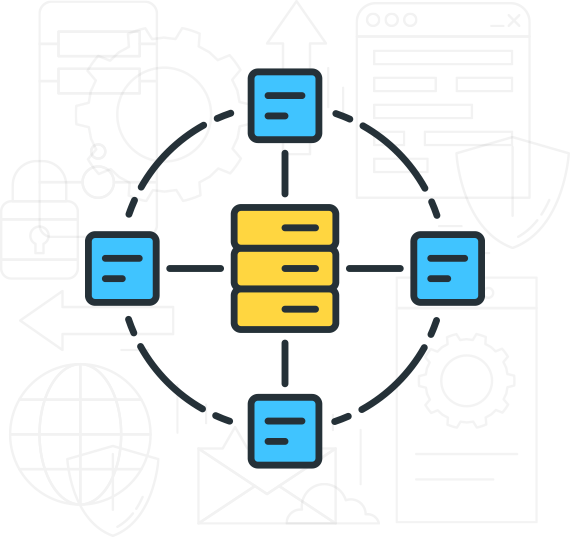 DEDICATED SERVER TECHNICAL SPECIFICATIONS
Virtual Machine Provides:
Host Server:
Dedicated Server Gives you Control, Flexibility and Scalability
The main advantage of this type of hosting is you get complete customization control over your server. In shared hosting you get very limited resources with lot of restrictions, which negatively effect your website performance and results in downtime and slow loading of your web pages. There is usually no freedom to install new softwares or change the environment of server, and you have zero control on the hardware. Contrarily the dedicated server hosting offers you the level of control which other hosting options are unable to provide. The simple fact that when there are no other users on the server, it means you can tailor this web hosting platforms specifically to fulfill your all business requirements. Which means that now you can purchase and add more softwares and features which your application or software need for optimal performance with utmost freedom.
Dedicated Servers Help you Boost your Business
In this advanced era when nobody have time, and consumers are unwilling to wait online even for few seconds dedicated server solves the problem with highest level of uptime. If you do not want to lose any visitors or potential clients then your website or application shall have zero or no downtime. That is only possible if you have complete control on your computer where all the files, images, and data is hosted. Nobody would like it that if your website load slow, and your client move on to your competitor and avail their product and services. So business owners who are really serious about success and achieving goals, touching new milestones, never compromise on the website speed and resources. For all those entrepreneurs and enterprises dedicated server is of prime importance who want to give best user experience to their visitors, want to generate leads. So when you feel your website traffic is growing and need more resources, and you do not want to compromise the privacy of your users on the shared hosting server then it is the time to move on the dedicated hosting environment. This type of hosting is perfect for medium to large scale enterprise. Egypt which is also known as Arab Republic of Egypt is a well developed country in the northeast corner of Africa.
Why choose Dedicated Server to Host in Egypt?
Some of the well known companies such as Microsoft, Etisalat and eSpace have already set up their offices in this country. Huawei officially confirmed that during the African Cup of Nations Egypt will have 5G networks. Huawei is going to test its 5G internet network in Cairo international stadium. Which means the country have well developed infrastructure and people are well versed with the technology of modern era. So if you are serving the clients of Egypt through your products and services and need a dedicated server based on Local Egypt IP address. Then we have perfect solution for you. We are providing dedicated server hosting in Egypt from physically located dedicated machines located in racks in data center facility from multiple locations in Egypt. If you have any specific configuration requirements feel free to contact our support team through ticket, email or live chat, which is available 24/7/36
ADVANCED FEATURES
All Dedicated servers holds the advance features as compare to other available options such has shared web hosting or Virtual private server (VPS) with full root access.
Benefites of Dedicated Servers
Dedicated servers have many benefits such as you have full control and privacy with no tolerence policy of intrupption at any point. We will have no access on your server. You can make as much business as you want. These machines are highly brustable which control heavy instance of traffic as well. There are few basic benefits we have given below:
FACILITIES YOU CAN ORDER WITH DEDICATED SERVERS
With each server you have optional RAM, Hard, IPv4 and Software configurations. You can choose these hardware and software according to web application requirements.
Benefits of Having a Dedicated Server
We are providing well equipped built on branded hardware servers with fast internet connection. We are among the pioneers of web hosting provider in Egypt and have large number of recurring dedicated server clients. We provide best server solutions at affordable prices. We know our clients want to make money by reselling web hosting to local clients or by hosting their resource intensive websites on dedicated platform. So we make sure that we provide the clients with complete satisfaction in the form of high quality services. All our servers are well secured, have superb fast speed and you get complete control on the physical server, so you can install the softwares to enhance the security and improve the performance of your website or application. We provide both managed and unmanaged solutions. You can choose the operating system which you want to be installed (Linux or Windows) when you place order. If you have any questions or confusions please do not hesitate our competent support team is always there to assist you regarding all matters of datacenter and servers.
Un-managed Dedicated Server Support
Initial setup of dedicated server hosting
Installation of Control Panel if License is purchased from our Compnay
Re-installation of OS (Operating System)
rDNS Setup
Network and Hardware related issues.
| | Self-managed | Managed | Fully managed |
| --- | --- | --- | --- |
| Monitoring | Proactive: Network & host | Proactive: Network & host reactive: container (stats via NodePing) | Proactive: Network, host, container (stats via NodePing) |
| Patching | | | |
| Root access | | 1-click enable | 1-click enable |
| Control panel | | | |
| APP installs & updates | | | |
| Backups (snapshot) | Disaster recovery only | Disaster recovery w/ On-demand (1 snapshot) | Disaster recovery w/ On-demand (1 snapshot) |
| Migrations | | Optional | |
| Support | | Optional | |
| Dedicated IPs | 1 | 3 | 3 |
| SMTP email relays | 5.000 | 5.000 | 5.000 |
FREQUENTLY ASKED QUESTIONS
Here are few of the most requested Questions by our customers. If you have any special request of any special question then please let us know via contacting us on support or via calling us.
Dedicated hosting is quite a premium thing as compare to normal hosting or shared web hosting. The dedicated hosting is based on dedicated resources. It helps you make your website more responsive, more active and more traffic controlling body.
VPS is virtual machine we create within a server while a dedicated hosting or dedicated server is the full machine with dedicated resources without having any sharing with any person. Which means dedicated servers have more resources cores, ram, hard etc than of a virtual private server (VPS).