Qatar VPS Server Hosting
Qatar is a peninsula in the east of Arabia; worldwide businesspersons are working in this country. Day by day this country expands its worth in the Arab market. For getting the higher market interest most of the businesses are moving to the next level infrastructure and IT sector. Firstly they made the best web environment for matching the competitor market. For that kind of need all, they choose a huge server feature for giving the better output results to its business owners. VPS is a dedicated hosting form that can be consumed for various purposes, such as for the production of a VPN proxy, a gaming server, and a web server. As we all know today, it's not enough to live online or to put the app online, but there are 100 other facts to consider for the greatest chance to succeed. So the best and cheapest option to buy a VPS in Doha, Qatar if you are to target or gain access from Qatar in particular. It gives you exclusive access to Qatar to introduce you and to enhance local confidence.

Dedicated IP

Full Root Access

SSD Disk Drives

100 MB/S Network
SSD VPS Server Doha, Qatar
VPS is the methodology for physical server hosting which runs many virtual servers but is fully separated. You can use VPS computer hosting in Qatar for running your company web site in Qatar with full server compatibility. If you need more CPU power, more CPU cores, and the bandwidth transmission rate, you will see this as needed. This is a better, cost-effective web hosting platform for enterprises. The networking adaptability is extremely high apart from growing networking. It offers more flexibility and efficiency than shared hosting. Each customer on a VPS server approaches a virtual machine that runs a working framework (OS) duplicate itself. This allows customers to use VPS hosting to compare and execute dedicated servers for their locations. Because a VPS is a private server that separates your files from other OS-level operators.
Low Latency in Middle East
A VPS is a server that operates on a machine. There are several virtual servers on a physical container; each one is separated from the other. This is done with software, known as a hypervisor, which segments the physical server and keeps every segment separate. Each VPS runs its own, independent operating system, which creates the illusion that it is its independent server. Every VPS is also individually reboot able. Instead of fighting for space and power on other websites, a VPS gives you your own Qatar based adaptability. Besides, your dedicated storage, Random Access Memory (RAM), and other key resources will help you.
Memory
Burst RAM
CPU Power
Storage
Geekbench Score
Bandwidth
Price
1GB
2GB
2.4GHz

1 core

20GB
1000GB

$3.95/mo

On sale -

Save 50%

ORDER
2GB
4GB
4.8GHz

2 cores

40GB
2000GB

$8.95/mo

On sale -

Save 50%

ORDER
3GB
6GB
7.2GHz

3 cores

60GB
3000GB

$12.95/mo

On sale -

Save 50%

ORDER
4GB
8GB
9.6GHz

4 cores

80GB
4000GB

$15.95/mo

On sale -

Save 50%

ORDER
6GB
12GB
14.4GHz

6 cores

120GB
6000GB

$23.95/mo

On sale -

Save 50%

ORDER
8GB
16GB
19.2GHz

8 cores

160GB
8000GB

$29.95/mo

On sale -

Save 50%

ORDER




SIMILAR LOCATIONS
We have accross the globe data centers which makes us one of the most effective and demanding data centre, You name the country where you want your server and we will give you the best specs and price accordingly.
Browse Remotely from Qatar Origin
This is designed for remote access for all Qatar based clients with reliable features. This also centrally tracks and fixes user-specific issues for network administrators. Remote Desktop is a program that lets you connect the virtual computer completely from a remote location onto your VPS. In Qatar, RDP has been designed to allow the usage, data sharing, authentication, and encryption of network, device, and VPS (virtual private server) on all clients, according to their needs and demands. You can search, browse, and track data and services from a remote server.

Dedicated IP

Dedicated IP

Full Root Access

SSD Disk Drives

100 MB/S Network
Linux and Windows OS from Qatar Origin
The OS is a set of programming which monitors Computer devices and provides the kind of programming assistance. Low-priced Linux and Windows servers are available in Doha Qatar. This feature is distinguished by the two windows and Linux working frameworks. Typically speaking, Linux is the best known and the least popular hosting platform. Unix is a working platform for open source. Because of its moderate and low cost, the vast majority of organizations hosting using Linux. With PHP and MySQL, Linux is fine and can improve content such as WordPress, Zen Cart, etc. Windows hosting next use windows as a working server framework and offer advances like ASP, Net, SQL Server from Microsoft.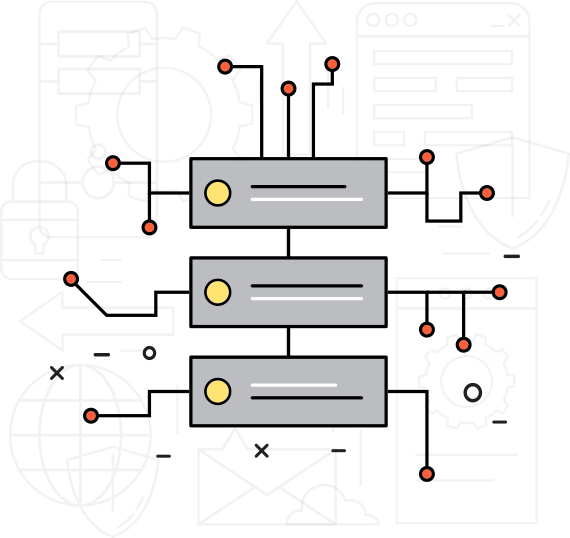 Best Services Around the Globe
Following are the few of our key services which we provide to entertain our valued customers with each VPS and Dedicated Server Hosting.
Server Addon and Features
A user-friendly controlling panel is available for all Qatar VPS hosting that provides all Qatrian clients with simple and specialized server handling and monitoring services. The one thing that is connected to the server is an operating system, so we need to perform work with the presence of the OS, every operating framework works in various controlling areas, as per its workability, also the unrivaled Plesk interface in Windows that allows you to work with your VPS similarly, with the Linux working framework cPanel is available. You can get root access to your hosting set up in this type, such as dedicated server networking. You will update the program kit without asking for your web hosting company to do so. Every VPS account has its resources and can not affect other websites' results. The main thing about these containers is that they are flexible to upgrade or change to your needs. VPS hosting improves the flexibility and efficiency of traditional hosting dramatically. That node is completely isolating the VPS hosting servers and there are very few clients. It ensures maximum service adaptabilities and efficiency.

Automatic Software Updates
Our State of the Art system makes auto updates ready on just click away which reduce the human effort and make it easier to control your services more easily.

Secure Shell Access
With each Virtual Private Server we provide the Secure Shell Access which make our customer more convienent to control, install and run different applications which a normal hosting can not.

Ruby Version Manager (RVM)
With Cpanel or Plesk panel we have facility to provide you with latest ver RVM. This is one of the most important element in new era web application controlling and running smoothly.

24/7 Support
Our Support system is out of the box as it provide you quick response with best solutions with every problem you get. You can reach us via email, ticket system or mobile numbers anytime 24/7.

Unlimited Email Accounts
We understand how important is email accounts for you and how important is your emails deliveries to clients. Most of the organizations based on their email system. We provide the best most effective email system.

Crontab Access
With each Virtual Machine you will get full control over server. This facility will allow you to run as much Cron jobs on your account as much you want with out any intruption or inconvience.

Knowledge Base
Our knowledge base is the best solutions to sort out your issues if you buy un-managged vps programe. By using our knowledge base you will able to sort out any issue regarding installation etc.

Managed Servers
Our Premium Managed VPS Services are the best and most demanding product in the industry. There are thousands of clients who are enjoying this. In this service you run your application and we will deal with all technicalities regarding your server.
WHAT OUR CLIENTS SAY ABOUT US
Purus gravida quis blandit turpis cursus in hac. Sollicitudin aliquam ultrices sagittis orci a scelerisque. Quisque egestas diam in arcu cursus euismod.
FREQUENTLY ASKED QUESTIONS
We have arranged few of frequently asked questions from our customers. If you have any specific question then you can reach us via contact form, generating ticket or via email at support or sales.
No one can afford to go offline when your server runs important applications and programs. For this kind of situation, you can avail of the best lookup for handling uptime connection and power vulnerabilities.
VPS Hosting is the priced control solution with high resources websites to control. It is the best move to make from shared web hosting to control server based hosting solutions at very affordable pricing range.
Yes, you can order a resources upgradation at any time of your subscription, making order is an any time execution process and you will be charged automatically as per what you selected.
We provide premium class support with each of our services. You can get the full scale support with our managed VPS server solutions. In this solution you just need to focus on your business and we will take care of all technical issues regarding your servers to make it smooth and best experience of your practicle life.
As Services are being offered through third party data center and we do not have any direct control so after purchase there is no refund for any new or renewed service. It is better to discuss things in details before placing your order.
We have hard internal firewall which prohibits most of the attack so you should feel yourself safe, currently we are not offering DDOS protection for this location bit is under consideration.
Your best VPS hosting option is here:
$2.95/month

*